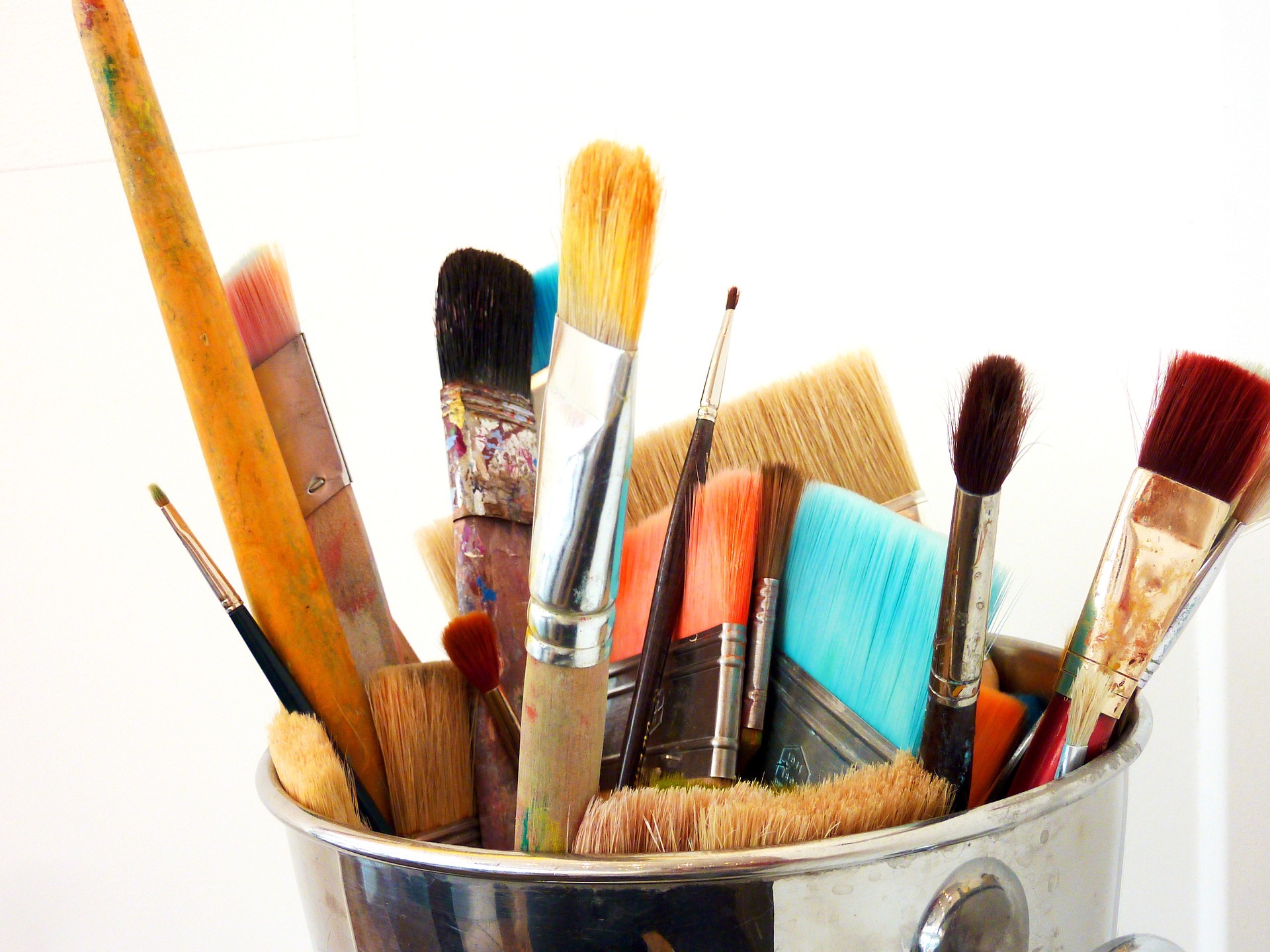 Kids love arts and crafts projects until they are no longer fun. What could possibly turn a joyful, creative session sour? Unfortunately, it is adults. Unlike adults, children are less likely to conform to rules, feel the need to organize the process, work in linear courses or "do things" like an adult may choose to do them. In a child's world, a horse can be purple, it is okay that paint is messy and anything they make is a work of art. If you can get on board with this then you and your child will have positive arts and crafts experiences. To assist in the process, use the following guidelines.
Lose the rigid boundaries. Some adults have a difficult time relinquishing control over the process and set constraints that stifle a child's creative process. Learn to let go.
Let them make a mess. A drop of glue, splash of paint, or spilled piece of glitter can send some people over the edge. Plan for the mess. Place plastic on the table and floors and old clothes on the kids. Go with the flow.
Respect the child's pace. Some kids slap on paint with wild abandon, while others putter and work diligently. Respect their technique.
Positive comments only. You can dislike a child's artwork but you don't have to say that out loud or lie. Negative comments are destructive to a child's self-esteem and creative process. Keep them to yourself. Instead you could say something like, "I really like how you used that color" or "I love the shape." A simple "nice" could suffice.
Let the child do it. Kids learn through doing. No matter how clumsy or uncoordinated their efforts are, they are mastering the skill through their struggle. If you have to assist the child, try a hand-over-hand approach.
Understand kids can have very short attention spans. Developmentally, attention span increases with age and is individual to each child. Let the child decide when their creation is finished. Forcing a child to continue when they are ready to quit creates a power struggle.
Join in and make your own crafts. Creating with your child is a great way to spend time together. Don't worry about your lack of ability. Just have fun.
Ask the child what they like about their creation. It is important that children learn to recognize their strengths and accept who they are. Children who are self-critical tend to be negative and less happy.
Interact and talk during craft time. While this is not the time to get into heavy conversation, you can ask questions about what the child is creating and how they will proceed. Follow the lead of the child.
If asked for suggestions, turn it back to the child. Because kids look to adults for approval, they may ask adults to make decisions for them. Answering these questions indicates to the child that their choices are not important or correct. Here is a list of possible questions a child may ask and possible answers:
Q: "What should I make?"
A: "I am wondering the same thing. What were you thinking of making?" "When you look at all of this craft stuff, what do you want to pick up the most?"
Q: "What color should I use?"
A: "What color would you choose if I asked you the same question?" "Which color is your favorite?"
"Close your eyes and pick a color."
Q: "Which one do you like better?"
A: "Tell me which one you like better." "I am not sure. What do you think?"
Arts and crafts should be relaxing and enjoyable for kids as well as adults. Forgoing rigid boundaries and letting the creativity and imagination of the child guide the process will create memorable moments for both children and adults.
Carol M. Edwards is the creator of the popular website Kids Crafty Creations, a resource for easy and inexpensive kids crafts projects, games and activities. In addition, you will find various articles on the importance of arts and crafts and play for child development. Visit at [http://www.kidscraftycreations.com].
Article Source: http://EzineArticles.com/?expert=Carol_M._Edwards